RTGS, NEFT, and IMPS are the terms that are used while we transfer money from one account to another.
RTGS means Real Time Gross Settlement, NEFT means National Electronic Fund Transfer, and IMPS means Immediate Payment Service.
All three terms are widely used in our daily banking activities but have different uses that we discuss here. To transfer funds with any of the above ways you should have the account number, account holder's name, and most important bank's IFSC (Indian Financial System Code).
So let us start with RTGS.
RTGS (Real Time Gross Settlement)
RTGS is a real-time transfer of money from one bank to another bank on a gross basis. This transaction is processed as it occurs to the bank without netting with other transactions. Once it is processed it is final and irrevocable.
All RTGS transactions are handled by the central bank of any country. It is the safest and most secure method of transferring funds from one bank account to another.
The minimum limit of RTGS is 2 Lakhs and there may be charges levied on larger transactions.
NEFT (National Electronic Fund Transfer)
NEFT is an electronic way of transferring funds developed by RBI to facilitate the transfer of funds from one bank to another. You can only transfer funds to the NEFT-enabled banks with this procedure.
The main objective of Neft is to provide an efficient, secure, safe, and economical transfer of funds economically.
Before December 2019 there are timings for the transfer of funds but after December 2019 it is available on all days of the year 24 X 7.
These transactions are cleared in batches. You can do NEFT in both online and offline ways. There are no charges on NEFT transactions by RBI and no limit for the transfer of funds as long as the bank imposes a limit.
There are no charges for online mobile or internet banking transactions but the bank may charge the nominal amount for the transaction.
RBI doesn't take any charges on NEFT transactions but banks can take charges on NEFT transactions. Below is the list of charges that are taken by most of the banks.
| Amount in INR | Charges in INR |
| --- | --- |
| Up to 10,000 | Maximum charges of 02.50 + GST |
| 10,000 to 1,00,000 | Maximum charges of 05.00 + GST |
| 1,00,000 to 2,00,000 | Maximum charges of 15.00 + GST |
| 2,00,000 to above | Maximum charges of 25.00 + GST |
IMPS (Immediate Payment Service)
IMPS is an instant payment system in India, you can transfer funds to another bank account through mobile or internet banking.
It is managed by the National Payments Councils of India through its National Financial Switch network and was initiated on 22 November 2010.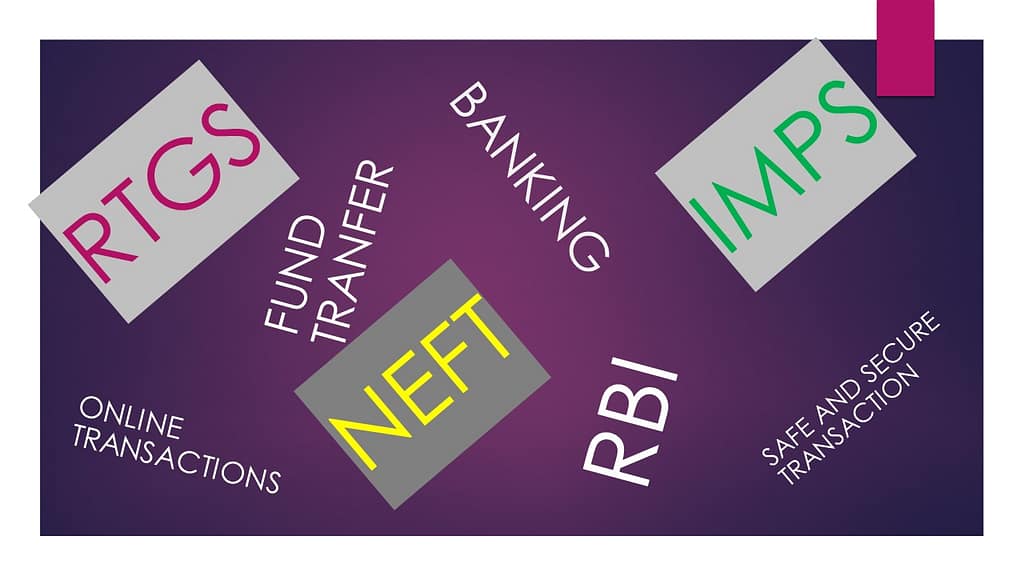 The important terms related to these types of transactions
Fund Transfer Limit
It is the limit that is set by the bank to transfer funds from one bank to another. In most cases, you can transfer approximately any amount of funds up to 10,00,000 rs.
Service Availability
Now all RTGS, IMPS, and NEFT transactions are available 24 X 7 means you can transfer funds at any time. IMPS is available on mobile or internet banking while RTGS and NEFT can be done both through bank or internet banking.
Fund Settlement Speed
The time taken by a bank to settle the transaction is known as Fund settlement speed. It can be different for different banks.
Fund Transfer Charges
The charges are fixed by the banks themselves while some of the transactions are free of cost. The charges depend on the amount you transfer and from which bank it is going to happen.
Which is the fastest way to transfer money?
If you have to transfer an amount of more than 2 lakh rupees then RTGS is best and for a low amount than 2 Lakhs then NEFT is best. IMPS is better than both the services but it is limited to up to 2 Lakhs INR per transaction.
How much time does RTGS take?
It usually takes 30 minutes and in some cases, it can take more time.
Suggested Read: Auto Sweep facility in banking